Winter Wonderland St. Augustine
Winter Wonderland 2011-2012 in St. Augustine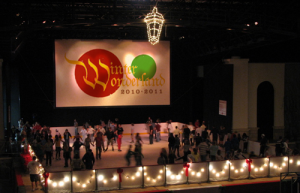 November 26th – January 1st
Bring the whole family to enjoy St. Augustine's Winter Wonderland which features a real ice skating rink, ice slide, Elf Express train rides, The Elf Village, sleigh rides and SNOW!  There are even scheduled visits from Santa.  Adults are welcome to relax and enjoy refreshments in the Igloo Lounge (21 and up only). St. Augustine Amphitheatre is located at 1340 A1A St. Augustine. Hours are November 26 through December 16, Monday through Friday 5 to 10 p.m.; Saturdays and Sundays from 2 to 10 p.m..; and December 17 through January 1 from 2 to 10 p.m. daily except Christmas Day (5 – 10 p.m.) and New Year's Eve (noon to 5 p.m.) Admission is free with activity participation fees.
Step into a Winter Wonderland this Holiday Season at the
St. Augustine Amphitheatre
!
Outdoor ice skating, snow every night, an Elf Village and Elf Express Train, carriage rides, Reindeer games, a s'mores pit and appearances by Santa will be some of the winter-themed offerings this year during the fourth annual Winter Wonderland at the St. Augustine Amphitheatre.
Hours of Operation
Subject to Change
November 26th – December 16th:
Monday – Friday: 5:00pm-10:00pm
Saturday & Sunday: 2:00pm-10:00pm*
December 17th – January 1st:
Daily: 2:00pm-10:00pm
Holiday Hours
December 24th: Christmas Eve: 2:00pm – 10:00pm
December 25th: Christmas Day: 5:00pm – 10:00pm
December 31st: New Year's Eve: 12:00pm – 5:00pm
January 1st: New Year's Day: 2:00pm – 10:00pm
The Following Activities Only After 5:00pm:
Santa   ·   Ski Lounge  ·   Sleigh Rides  ·   S'more Pit  ·   Snow
Santa Hours
November 26th – December 24th: 5:00pm to 8:30pm
Snow Hours
November 26th – January 1st
Daily:
7:00pm – Over the Ice Skating Rink and Elf Village
8:00pm – Over the S'more Pit
9:00pm – Over the Ice Skating Rink and Elf Village
(5-10 Minutes per Snowfall)