Event Booking Calendar
Event Booking Calendar – Only $399
Using Event Booking Calendar you can have a calendar of events which people can book online. Using password protected administration page you can add as many events as you want, specify how many people can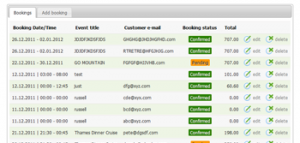 book each event and manage all bookings made.
With the event booking software you can create different categories of events, collect payments online and manage all the reservations made.
The Event Booking Calendar is the perfect solution for maintaining online event registrations for attractions, conferences, seminars, classes, etc. Administrators can manage bookings and availability (event capacity) through the back-end page. The booking software lets you edit reservation details, change the status for each booking or add a booking manually.
Our smart online event booking engine system allows users to register for an event, prevent duplicate bookings and collect payments online; fully booked and past events cannot be booked; administrator can set booking limit or disallow bookings or payments.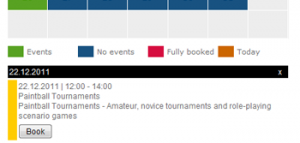 Online Payments
Major payment gateways supported so you can process payments online: PayPal or collect credit card details for offline payments.
Click here to see LIVE DEMO PAGE