THE WIVES AND LIVES OF HENRY FLAGLER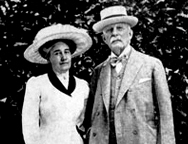 St. Augustine
Sunday, Jan. 9, 2011
"Quite simply… the very best theatrical portrayal of the Flagler legacy ever written."

~ Alan Smithee, Variety Reporter
Enjoy dinner and a lively production of this theatrical portrayal of the Flagler legacy. Following a specially prepared dinner by the chefs at Raintree Restaurant, this Limelight Theatre production cast of theatre veterans, Margaret Kaler, Dianne Jacoby, Darlene Jacobs, and Robert Gill, take the stage for what promises to be a stellar performance.
Tickets are $39.95 per person all inclusive, with adult beverages also served separately.
Dinner will be served at the Raintree Restaurant at 6:00 PM (suggested arrival time at 5:00) with the show to follow at 7:00 PM.
Ticketholders take note that the dinner and show are in the upstairs dining room. Tickets can be purchased in advance at the Limelight Theatre.