FOURTH OF JULY CELEBRATION IN ST AUGUSTINE
St Augustine Fireworks Over The Matanzas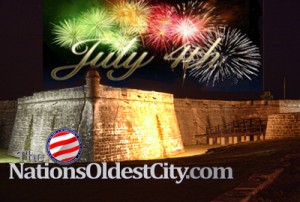 6:00pm – The Music Begins in the Plaza Gazebo
8:30pm – Traffic detours begin
9:30pm – Fireworks Over the Matanzas
Holidays are built around traditions and few holidays have more great family traditions than the Fourth of July: great food, outdoor band concerts, a day with friends and family, and of course, fireworks! They all come together in a grand celebration and there's no better place to celebrate Independence Day than in the Nation's Oldest City.
First, There's Music
Starting at 6:00pm music returns to the Plaza de la Constitución for a two-hour show filled with all the traditional patriotic favorites. The performance from the Plaza's Gazebo runs from 6:00pm until 8:00pm. The concert is free and those attending should bring lounge chairs for seating.
Then there's fireworks!
Fireworks over the Matanzas, the highlight of St. Augustine's traditional July 4th activities has become synonymous with celebrating Independence Day in the Nation's Oldest City. The spectacular aerial display of pyrotechnics high over Matanzas Bay begins at 9:30pm.
The 20-minute display is tightly choreographed to a stirring soundtrack of great popular music delivered over an extensive sound system transforming the entire Bayfront between the Castillo de San Marcos National Monument and the Bridge of Lions into a theatre of sight and sound.
Enjoy downtown after the show
Since July 4th falls on a Monday this year, it is expected that many people will remain downtown at the conclusion of the show for a late dinner or to visit the shops that have learned the value of extended hours after the fireworks. Given the choice between spending time strolling downtown with friends and family or sitting in traffic wasting gas, more and more people are taking their time.
Keep it safe and legal
Those attending Fireworks Over The Matanzas should remember two important safety rules that will be strictly enforced:
• Alcohol is prohibited on public property, including parks, streets and sidewalks; and
• Possession of such fireworks will be subject to citation or arrest and will have the prohibited fireworks confiscated. Violation of the ordinance is punishable by a fine up to $500, imprisonment up to 60 days or a combination of both.
Simply put: Have a great time with friends and family, but keep it safe and legal!In the event medical assistance is needed, the St. Augustine Fire Department along with St. Johns County Emergency Medical Services will have a base station at the main entrance to the Castillo de San Marcos National Monument and will have personnel roving on bicycles throughout the evening.
Personal fireworks are prohibited in the city and to read the news release detailing information about personal fireworks.
Street Closures Monday, July 4th in effect from 8:30 pm until approximately 10:30pm
Street Closures
The Bridge of LionsS. Castillo Dr. and Avenida Menendez north of the Bridge of LionsCathedral Pl. from Avenida Menendez to St. George St.Orange St. from S. Castillo Dr. to Ponce de Leon Blvd. (U.S. 1)Detours
• King St. will be two-way
•King St. eastbound will turn north on St. George St., then west on Cathedral Pl. (detour routed to Cordova St. to King St.)• Avenida Menendez northbound will turn west on King St.
• San Marco Ave. southbound will turn west on W. Castillo Dr. to Ponce de Leon Blvd. (US 1)• W. Castillo Dr. eastbound will turn north on San Marco Ave.
• Anastasia Blvd. westbound may not cross the Bridge of Lions  Parking
• The Historic Downtown Parking Facility at the Visitors Information Center can accommodate 1,200 cars. The cost is $7.00 for all day.• All public parking throughout the city will be available at no charge the entire the day.
• The parking lot at the Castillo de San Marcos National Monument will be closed from 6:00 p.m. until 11:00 p.m.
Parking will be limited in the vicinity of the Plaza to facilitate traffic detours in the evening.